With the onset of the COVID- 19 pandemic, the entire scenario of weddings has seen a 180o turnaround in the past couple of years. Several couples are planning their weddings at home to prioritize the safety and well-being of their friends and family.
The trend of home weddings is seeing a steady surge, with flourishing ideas to conduct it in a simple yet elegant manner! One of the key components of wedding planning involves the couture of the bride and groom.
Let us look at some unique bridal wear ideas now!
Sarees
The classic, all-time hit bridal costume is the saree. One can rarely go wrong with an elegant saree. A bride should not have to compromise on her happiness because of the wedding venue. She can have a fulfilling wedding with the attire of her choice no matter what!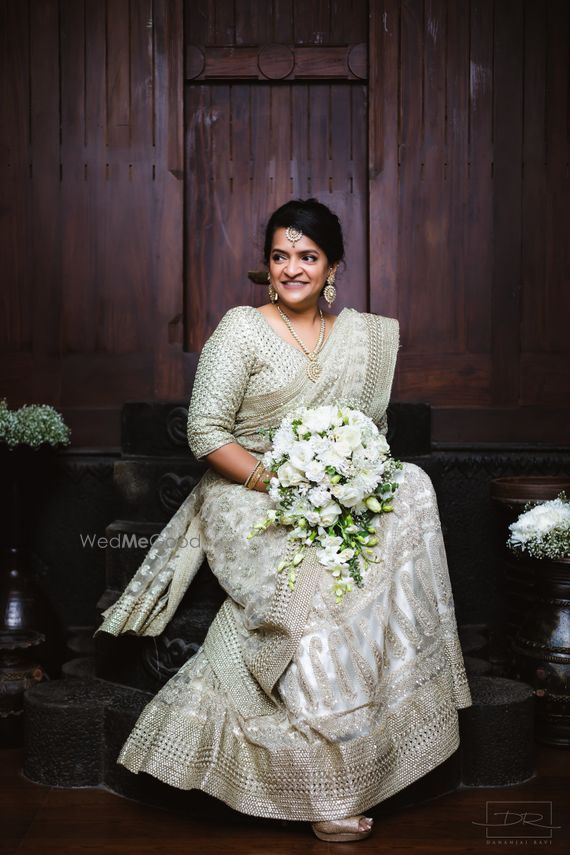 What Saree Should I Go For?
The next burning question regarding selecting a saree is – what style should one opt for? Pastel shades are currently in vogue! They can add a beautiful, ethereal touch to your wedding ensemble since they are graceful indeed!
There are multiple pastel shades such as pastel pinks, greens, blues, etc. However, we suggest that you go with the forever classic hue – ivory! There are multiple reasons behind this idea of ours!

Why Should I Go For An Ivory Saree?
Ivory is a highly customizable colour – you can design with it in a plethora of ways! Since ivory is a plain shade, jazzing it up can be fun. When the primary colour of your outfit is neutral, there is no stopping you from going crazy with all other aspects mentioned below.

Jewellery
The next vital component of the bridal ensemble is jewellery. Indian weddings are simply incomplete without jewellery. After selecting an ivory saree, you have the liberty to select whatever type of jewellery you wish to!
Conventional bridal jewellery, temple jewellery, filigree jewellery, Polki jewellery – the list is perpetually endless. An ivory saree can be paired with any kind of jewellery. Hence, you automatically gain better autonomy over your dress choices.

Hairdo
An ivory saree can be styled in a multitude of fashions. You can opt for a traditional bridal look or go for a contemporary-styled makeover as well. The versatility of this saree offers extensive scope for experimentation.
Hence, you can go for traditional bridal braids to go old-school or pick messy, floral buns that are modern and add immensely to aesthetics!

Conclusion
This compilation of the best wedding styles based from home with an ivory saree is bound to help you make the right choice for your big day! Leading bridal experts have carefully curated all the options at your disposal. Hence, you can opt for them without apprehensions!