The wedding of Ishan and Aanchal was definitely the talk of the town owing to the picturesque setting, the breathtaking wedding dress, the mouth-watering array of dishes and of course the love that sparkled for each other in the couple's eyes.
And why should it be anything less than perfect, when Aanchal herself has helped so many couples achieve their dream of a perfect wedding with her superb planning skills. Aanchal Tuki, more popularly known as the Millennial Bridesmaid has been more than a planner in helping brides- to- be in fulfilling all their wedding dreams and ensuring that have all that they ever imagined for their wedding.
A splash of colors
So for her own wedding -the creator of such perfect weddings aka Aanchal put into play all the experience that she had gained over the years as a wedding planner. From choosing the right vendors who could provide her with just what she was looking for to the right attires, jewelry and much more- it was indeed the colors of a dream that had been woven into reality.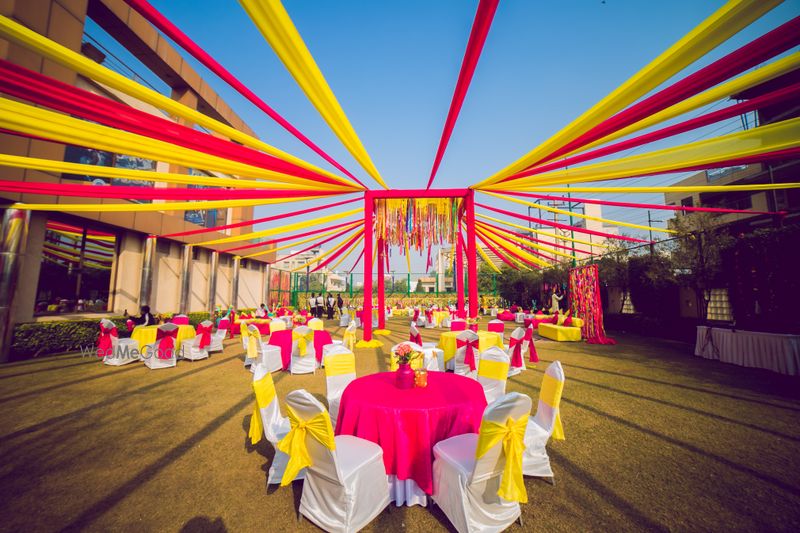 The Mehendi
The first thing that is sure to catch your eye about this Mehendi is the DIY colorful set up that brings in a fun and playful mood to the whole place. Added to this is the uber-cool yet quirky sitting area that was set out for the couple but eventually turned out to be the favourite spot for all the guests. Thanks to this play of colors the photos of the Mehendi were definitely something not to be missed out! The little placards with the fun write-ups also added to the fun and frolic.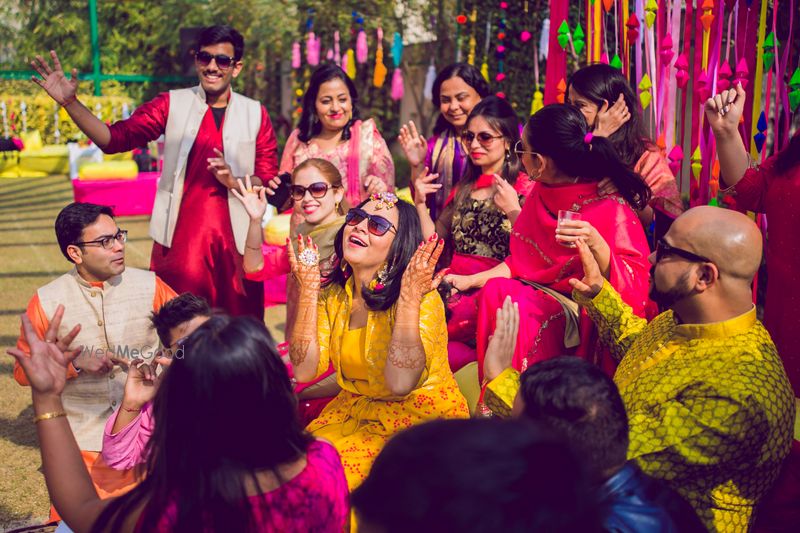 Engagement and Sangeet
The engagement and Sangeet which took place at night was lit up with thousands of fairy lights. For a moment it seemed as if the stars had landed from the very heavens to create the dreamy setup. Not to mention, the lights also ensured that the couple gets the best photographs.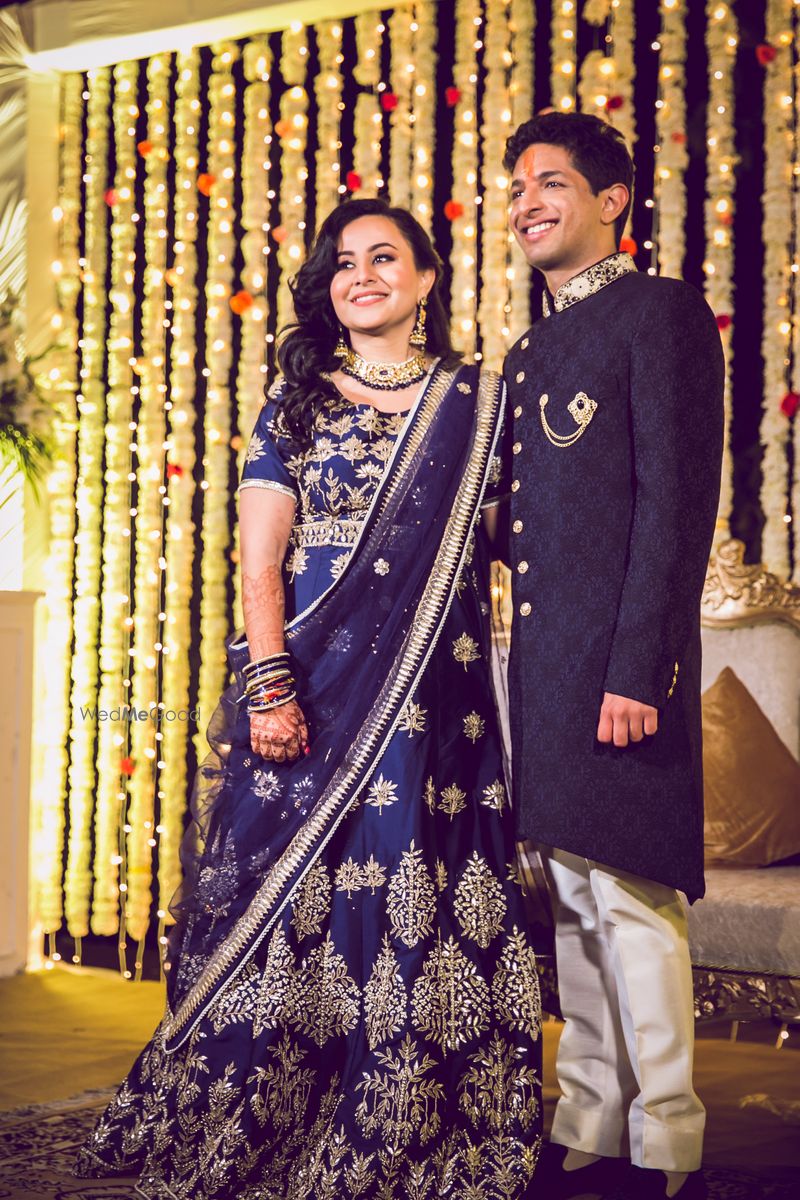 The D day
Following the Haldi Chura ceremony, the D day was a spectacle that the guests are sure to remember for a long time to come. The entire setting was given a picturesque look with floral decors done with the most intricate detailing. The Mandap was clearly a highlight amongst all and the couple's choice of clothes added to the glamour of it all!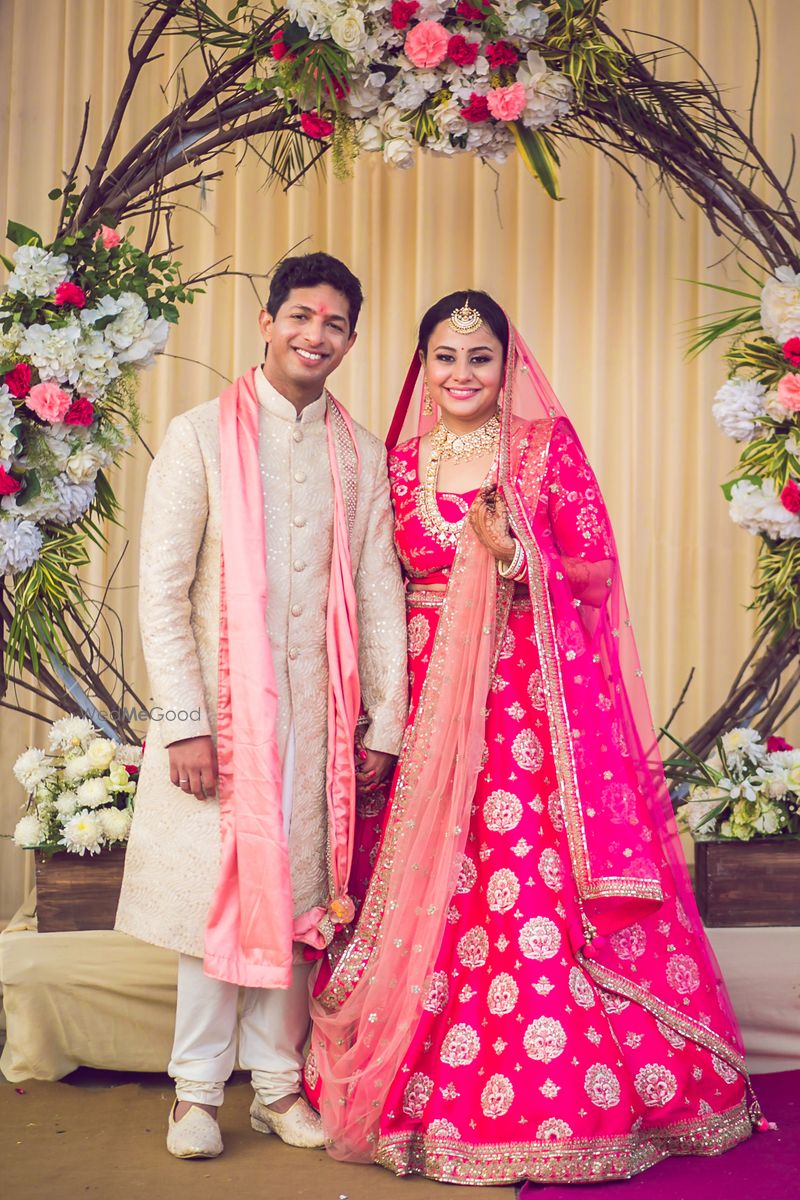 If you are wondering who helped Aanchal in creating her perfect wedding, here is the list:
Photography- The story folks
Décor-Clique events
Wedding day Makeup- JasmeetKapany
You can also Check out,
A Fairy Tale Beach Wedding – Malvika and Anshul
The Perfect Destination Wedding- Nidhi and Sanchit