If you are a to-be bride looking for bride entry ideas, we have you covered! The bride is always at the centre of attraction with regard to her costumes, jewellery, and the overall way she carries herself.
A pivotal aspect of the wedding shenanigans includes the bride's entry at the wedding venue! Previously, weddings were conducted in a highly traditional manner and did not offer much scope for lightheartedness.
However, times are changing now, and weddings focus extensively on merrymaking. Young couples have the liberty to plan the events in a fun way. Hence, we bring you some highly creative and unique bridal entry ideas to make you stand out in the best possible way!
1. Enter In A Car – The Vintage Approach
Are you an old-school romantic who would love to add a touch of nostalgia to your entry? Then, entering in a car like in the olden times is the best bet for you! You can hire the car of your choice, decorate it with flowers, and throw in some quirky elements as well!
2. Girl Power – With The Bridesmaids
Do you have a whole horde of girl friends whom you call your ride or dies? You can carry out a sweet gesture by including them in your entry plan! Entering with your girl gang is bound to make heads turn and show the world how much they mean to you!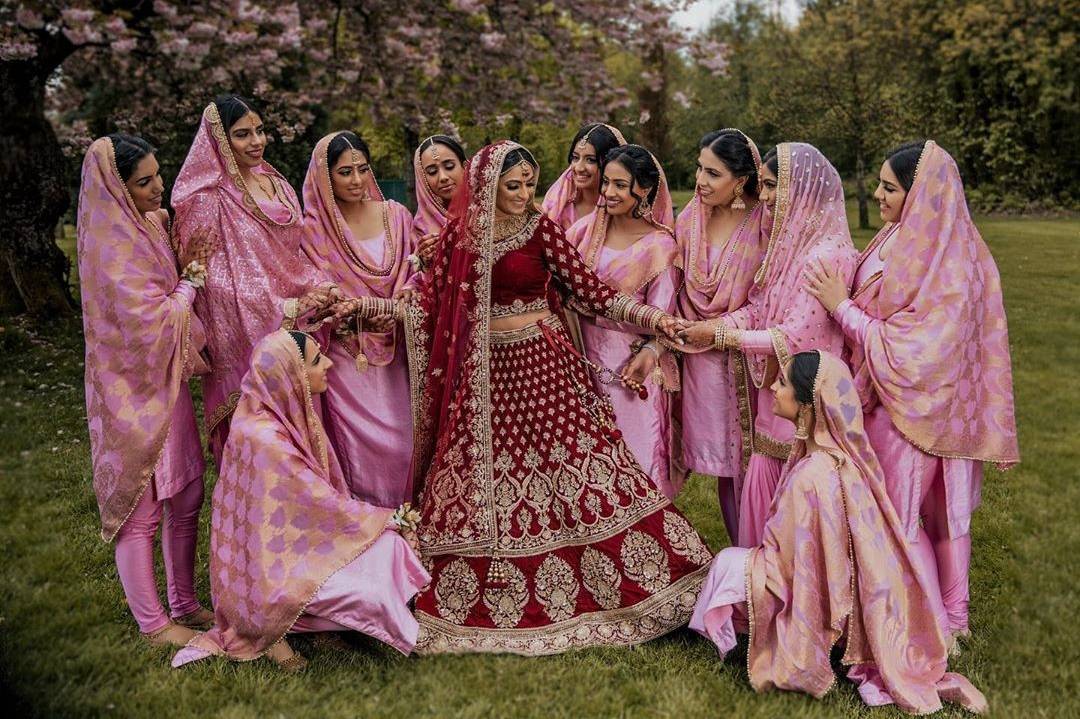 3. A Sparkling Bonanza – Include Fireworks
Sparklers and fireworks wield the charm to make any event a dazzling and spellbinding affair! They are highly customizable and do not require extensive planning. If you have the budget to spare, fireworks can be a gorgeous addition to your entry plans!
If you require some more insight regarding implementing fireworks in your bride entry ideas, you can check out this article!
4. Fluffy Friends – Arrive With Pets
Pet owners need not look for any more ideas for their gala entry! Dressing up your pooch in snazzy outfits and letting them lead the way can make for a terrific entry. However, it is also vital to ensure that they do not feel uncomfortable due to their costumes.
5. The Traditional Way – Phoolon Ki Chaadar
If sticking close to traditional roots is your cup of tea, you can never go wrong with the legendary phoolon ki chaadar! This flowery, elegant accessory can add loads of grandeur to your entry and make it outstanding. You can include your friends and family here as well!
Check out unique ideas for your phoolon ki chaadar here!
6. Accompanied By Parents – For A Rush Of Emotions
According to tradition, a wedding marks the departure of a woman from her maternal house. Entering the venue with your parents accompanying their little girl for her big day can be a sweet touch and a real tear-jerker!
7. Sail Away To Paradise – Embark A Boat
Destination weddings are the new frenzy! If you have planned for a beach wedding or at any resort with a water body, you can plan for a dashing entry on a boat! This idea will make for a truly dreamy and one-in-a-million event by itself!
8. Quirky Placards – Enhancing The Element Of Fun
This entry idea can come to your rescue if you run on a tight budget. Collect all the little munchkins at the wedding and coax them to accompany you with placards during your entry! You can design placards with funny quotes on them to make heads turn and giggle!
9. Dance Away Like There's No Tomorrow – For Mirth And Ecstasy
What's better than a dancing bride who marks her entry with groovy moves and splendour? The best part about this type of entry is its flexibility. You can include your family, friends and even hire professional dancers if you wish to!
Conclusion
This compilation of the best bride entry ideas is bound to have something for everyone. Hence, you can pick the concept that suits your preferences and aesthetic the best and grab the limelight effortlessly!